• Louise O'Gorman
Preparations underway for Roys Art Fair on Thursday 28th of September at the Bargehouse, Oxo Tower Wharf. Myself and another 80 artists will be selling our work from this wonderful location in London's Southbank. You are ALL invited to the private view on Thursday 28th September from 5pm, The fair continues until Sunday 01st October  Entrance is FREE with tickets Tickets to Art Fair - here!  I will be on stand 64, 3rd floor and I would LOVE to see you!
---
• Louise O'Gorman • Blog • Figurative • Literary Art
The Irish Angel - Aingeal
A tribute to all those beautiful souls who have left us. They continue to shine their light on us from above with love. 
---
• Louise O'Gorman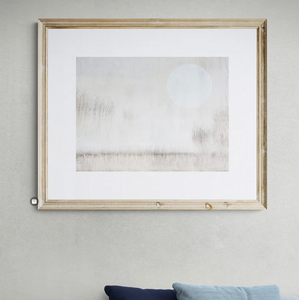 Did you know that hanging art in your come can boost your mood? Art that you love can elicit feelings of joy, pleasure, and happiness, which can help improve your overall mood.
As you know much of my art is made through self portraiture or placing myself in the frame. Using myself as the subject inspires me to do some self-reflection and introspection.  The actually process of making the art itself offers me a sense of calm.  I recently read that by looking at art, you can activate the parasympathetic nervous system, this totally rang true to me as I often feel that when I fix my gaze on a piece of art that I love (or make) I  feel a sense of calm and relaxation.  Art acts like  free massage for the mind, it  helps  reduce feelings of stress and anxiety.
So not only does art help you improve your personal growth and self-awareness, it helps you feel calm while you are doing so.
Here is a selection of work which I hope helps boost your mood and calm your mind. Enjoy, Louise x
---
• Louise O'Gorman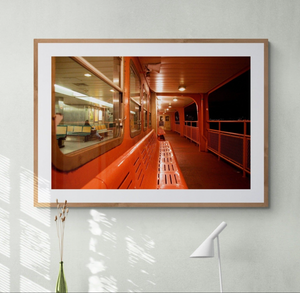 My work has been selected by
@saatchiart
for their New this week selection.
#Saatchiart
have a 1.4Million works of Art to choose from, so Its a really privilege that one of my pieces has been chosen. The image was taken while attending a
Magnum
 Photography workshop with m
Alex Webb
in New York city. The photograph was displayed with others that I shot during the workshop in the
#milkstudiosnyc
. The documentary series looked at the passengers going to and from Manhattan to staten island on the Ferry. I have made them available as limited edition prints. You can find this one and others from the series on my Saatchiart Gallery.
---
• Louise O'Gorman • Blog
Bright and vibrant Waterlilies. Something to brighten your walls.