• Louise O'Gorman • Dublin • Ireland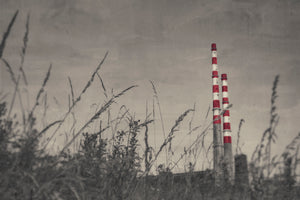 I've just added this new image "By the Banks of the Pigeon House" to my gallery in a few different sizes. 
Inspired by Black and white darkroom techniques, this image has hues of sepia seeping through the muted textured background. The red and white painted towers are symbolic of old hand painted photographs.
---
• Louise O'Gorman
The 21st of December  is the Winter solstice, the shortest day of the year and the astronomical first day of winter.  This artwork, titled  'Brú na Bóinne' is Inspired by the special event which happens at this time annually in the  prehistoric passage tomb  in Newgrange, County Meath.  The tomb, which is older than Stonehenge and the Egyptian pyramids, is best known for the illumination of its passage and chamber by the winter solstice sun. The sunlight enters as  a narrow beam of light which penetrates the roof-box until it reaches the floor and gradually extending to the rear of the chamber.The photograph of...
---
• Louise O'Gorman • Blog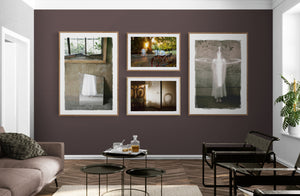 From Halloween to All saints and from Pagans to Christians, it's hard not to heed the Spooky Spirits during The Days of the Dead in October and November.  Apart from the bonfires and ghost costumes, for many cultures, these days mark the celebrations which pay respect to those who have passed.
Louise O'Gorman, a photographer from Ireland, honours one such person through a series of carefully constructed atmospheric photographs. The series pays homage to the Argentine socialite 'Camila O'Gorman'. Camila (also of Irish decent) was executed in Argentina in 1840 along with her lover (a catholic priest) while she was 8 months pregnant.
"Sharing the same family name as Camila, her tragic love story resonated with me, by placing myself in the frame, I felt a close connection to her.."
Louise serendipitously encountered the story of Camila while living in Buenos Aires. The series which places the artist herself in the frame uses techniques such as slow exposures, shadows and reflections to capture the movement of a figure passing through time. The resulting images have an ephemeral and ghostly, yet timeless quality to them.
Louise's work is collected by buyers internationally.  Museum quality prints are available through her website www.louiseogorman.art Prices start at £100
---
• Louise O'Gorman • Landscape
I am delighted to have my work chosen by Saatchi Arts Head curator Rebecca Wilson to be included in this weeks "New Work" collection. 
Painted Blue woods in a composite of the same photograph repeated to form a layered painterly image
. 
Close up details ...
---
• Louise O'Gorman • Ireland • Literary Art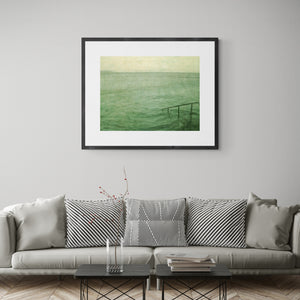 "The sea, The snotgreen sea, The scrotumtightening sea"