** FESTIVE PRINT GIVEAWAY!!!
Best selling 'Sleigh' as featured in *SaatchiArt and *Artfinder.
To be in with a chance to win:
*Join my VIPS - use pop up /contact
*Follow me on instagram and/or Facebook to be in with a chance to win!
- Winner will be announced on 22nd December.
If you can't wait that long and need your print before, its available here in various sizes to make your own snow inspired gallery wall!
Take me to the 'Snowscapes'
As featured in:
"Irelands Home Interiors and Living" Magazine" Irelands "House and Home" Magazine The Irish Times "Gloss Magazine" and The Irish Examiner - Property and Home,
Inspired by James Joyce's novel, 'Ulysses' - 'The Ulysseas' is a manipulated photograph of the Irish sea . The original photograph was taken at the forty foot,  the former all male bathing cove which is over overlooked by the James Joyce tower. The quote "The sea, The snotgreen sea, The scrotumtightening sea" which refers to the cold Irish sea is subtly laid on top of the layered painterly image of the sea. 
See available sizes ...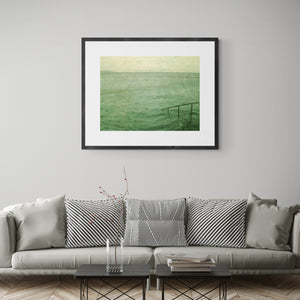 * * * * * Original Art for Beautiful Homes * * * * *
"Taking photographs is my way of escapism, my camera allows me to enter another world to create images that are alive in my imagination."
***** Some Kind Comments from People like you.
Thank you is not enough, I received your prints as a surprise from my husband,  I had been looking at your work for a while and he chose well!  I cannot wait to hang them up on our bedroom wall. The are subtle yet extremely expressive. I LOVE them!
 Fiona, Ireland *****
Louise has an eye and talent which I'm in awe of. I'm over the moon that I have discovered her work. The three prints I chose are incredibly beautiful and I literally can't wait to frame and hang them. I'll upload a photo of them once they're up!
Charlotte UK *****
I couldn't be more happy with my purchase. Aside from a great piece Louise followed up on the delivery from start to finish. A truly great experience all around!
Ross, Canada *****
I have bought three of Louises thought provoking works and I am thrilled with my purchases.Delivery was swift and the photographs were safely packaged.Once framed they will be displayed in our new kitchen extension for our friends to chat about.
Andy, UK *****