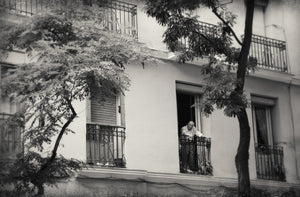 Fine Art Photography by Louise O'Gorman
Balcony #1
Regular price
€101,95
€0,00
Unit price
per
Tax included.
During lockdown, more and more people are appreciating their own private outside space, however small it is. 
These little personal spaces are all of Balconies in the city of Madrid, Spain. 
--------------
"Being a foreigner in a new city, I started documenting the city's dwellers whilst they themselves observed their own city.

According to the law in Spain, "the taking, reproducing or publishing of the image of a person captured by photography means in places or moments of private life or outside these" is considered to be an "illegal intromission in private life".

As I got to know the city's streets, buildings and its people to a greater degree, I began to feel more at home and more at one with the city. As the number of photos of my subjects grew, so did my love for my new city. The narrow cobbled streets, the long wide avenues and public plazas all became my playground, the buildings with their balconies of various architectural styles became my canvas and the people who occupied them, became my subjects.

As a result of adhering to the Spanish law, what started off as being an observation of the city's dwellers, my subjects began to take on a greater and more personal role. They started to truly reflect my life in this new city, these were no longer portraits of a city, but had now became portraits of a new resident, Myself ! In order to protect the identity of those photographed, all faces have been replaced with those of my own self portraits.
-------------

Farewell - Federico Garcia Lorca

If I die,
leave the balcony open.
The little boy is eating oranges.
(From my balcony I can see him.)
The reaper is harvesting the wheat.
(From my balcony I can hear him.)
If I die,
leave the balcony open! 
About the Prints:
The photographs are printed on Fine Art Matte Hahnemühle Paper.
Image sizes include a small white border for mounting.
The Prints are emboss stamped and numbered on the back.
All photographs are printed using the Giclee print method.
Prints are 100% archival - meaning the colour will not fade.
Each photograph is a Limited Edition Print. Once the number of copies stated are sold, this photograph will no longer be for sale. 
Shipping and delivery:
All Photographs are printed to order. 

Giclee Archival Prints can take up to 5 working days to prepare.    
International Shipping costs will be calculated at the check out.  
Prints up to 30x40cm are carefully packaged in a clear archival sleeve are sent in a rigid cardboard envelope using an envelope stiffener to avoid any bending. 
Prints larger than 30x40cm are wrapped in archival tissue for protection and are sent in wide 100mm diameter tube.
---
Share this Product
---